Overview
Up to date, the high fuction,low price,good reliability,power function,new series products enhanced greatly in the aspects of measurement,accuracy,measurement stability,communication protocol,easy to use etc. easy and reliable production line,good conformity of the products that gurantees each instrument reach the best function before leaving factory.
The main board is suitable for any kinds of transducers,including clamp-on type,insertion type, π in-line type,standard in-line type and same kinds of transducers from other manufacturers.the pipe parameters and calibration parameters of water meter and in-line pipe are input by manufacter,users do not need to input any parameter,only need to connect with flowmeter to work.
Applied to on-line measure and system monitor for nearly all liquids from petrol chemical,metallurgy,electric power plant,irrigation,city water company,energy monitor fields,realize the functions of measuring and checking of flow velocity,flow rate,accumulation and heat quantity of different liquids,and flow rate on/off,liquids distinguish.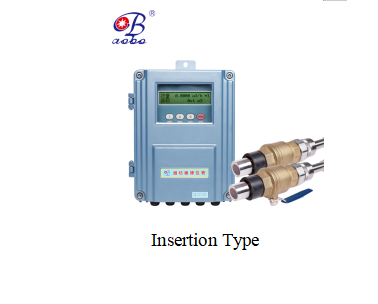 Principle

Remarks:
θ The angle between the ultrasonic beam and the flow
M Transit times of the ultrasonic beam D The internal diameter of the pipe Tup Transit time in the forward direction Tdown Transit time in the reverse direction ΔT=Tup –Tdown
F=900×π×D2×V
F is instant flow rate(unit:m³/hour) D is inside pipe diameter(unit:m) V is flow velocity(unit:m/s)
Parameter
1. Power suplly:AC 85—264V or isolation DC 8-36VDC
2. Repeatability:better than 0.2%.
3. Accuracy:better than 1%
4. Signal output :one channel standard isolation RS485 output;
One channel isolation 4-20mA or 0-20mA active output;
One channel OCT output(programmed between the pulse width(6-1000ms),default before leaving factory (200ms));
One channel isolation relay output,with positive,negative,net accumulation pulses and different alarm signals.
5. Signal input: two channel three wire system PT100 platinum resistor input loop,to make heat meter has the function of displaying heat quantity;
Three channel 4-20mA input optional,accuracy:0.1%,has the ability to input the signals of pressure, liquid level, temperature and so on.
6. Display:2*20 backlit LCD(Chinese and English optional)
7. Operating:4*4 tactile keypad
8. Protection level:mainframe:IP65, transducer:IP:68
9. Transducer: clamp-on type,insertion type,in-line type.
Other functions:automatic memory the positive,negative,net totaliser flow rate and heat quantity of the last 512 days,128 months,10years.
Automatic memory the time of power on/off and flow rate of the last 30 times, realize to replenish by hand or automatically,read the datas through Modbus communication protocol.
Choosing measurement point
To ensure measurement accuracy and stability,the installation point of tranducers should be on the straight pipe full of well distributed fluid(when installing,the pipe must be full of liquid),comform to following principle:
1.Pipe must be full of liquid that is uniform and easy to travel the ultrasonic beam(vertical pipe or horizontal pipe)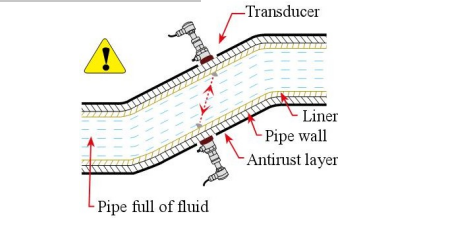 2. Upstream transducer should be installed at the place where the upstream length of the straight pipe is at least 10D and the downstream length is at least 5D where install the downstream transducer,so the pipe length should be straight without any valve,pump,angle head, D stands for pipe ouside diameter. The installation point should stay away from valves,pump,high pressure current,transformers interference source etc.
Avoid to install on the highest point of pipe system or vertical pipe with free exit(flow down)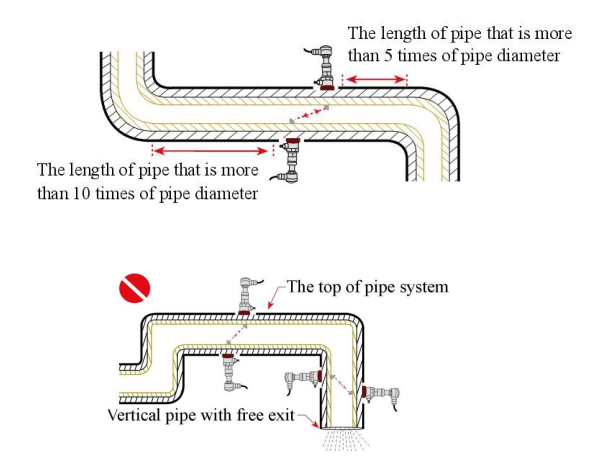 For the opened pipe or half full pipe,the transducers should be installed on U pipe.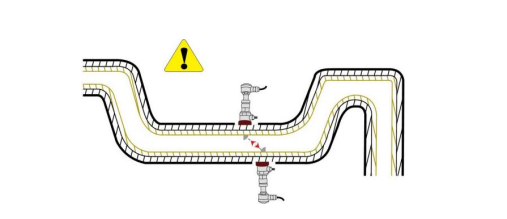 The temperature and pressure on the installation point should be within the work ability of the transducers.
Pay more attention to the pipe scaling in inner pipe wall,do best to choose the pipe without scaling to install,if it is impossible ,then consider the scaling as liner to achieve better accuracy.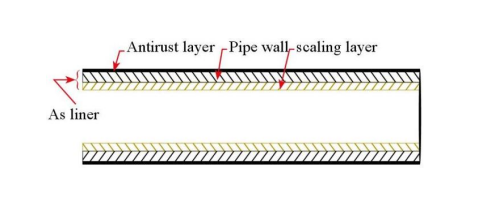 The two transducers must be installed in horizontal direction to pipe axis plane,within ±45°of axis line horizontal plane, to prevent bubbles or not full in upper pipe or sediment in down side of pipe to influence transducer measurement normaly.if there is space limit of installation that could not install horizontal symmetry,then install the transducers vertically or dip angle under the condition of no bubbles in upper parts of pipe.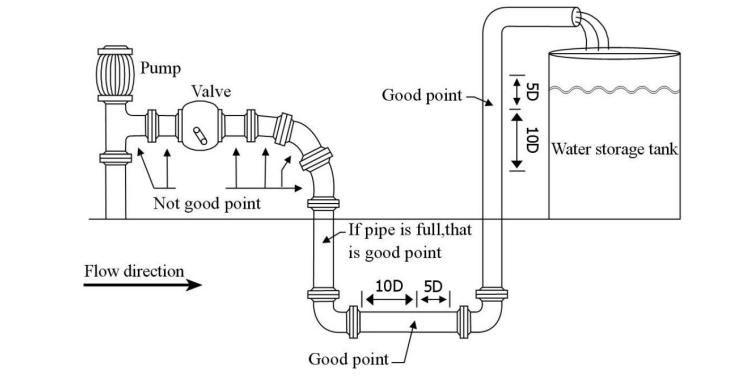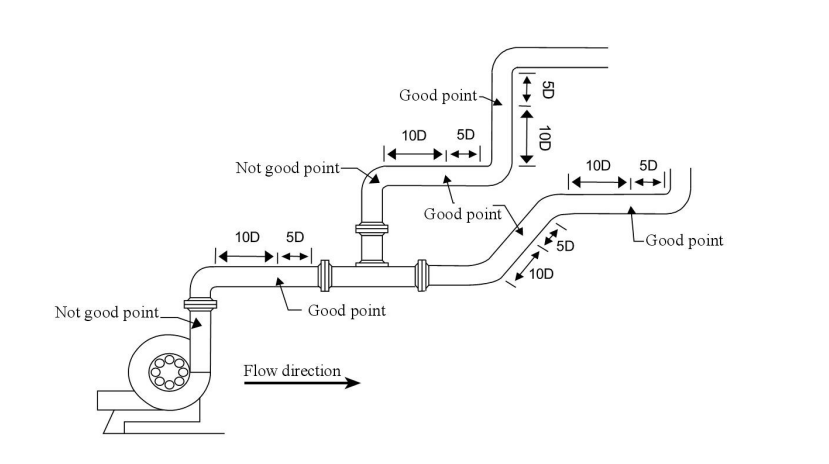 Insertion type transducer installation method
Insertion type transducer incorporates the advantages of clamp on type and in line type transducers,its features:
Transducers can be installed directly on pipes of carbon steel or stainless steel by welding; while for those pipes of materials like cast iron, glass fiber reinforced plastic, PVC and cement which cannot be welded directly, special straps should be used for installation.For those users who are in similar situation, please inform us of the precise outside diameter of the pipe to be installed to prevent leakage.