Product Overview
The YBY series pressure transmitter adopts high-precision sensitive components and smart chips to convert the pressure of various liquids, gases, steam and other measured mediums into 4-20mA standard signal output. It can be matched with a variety of instruments and has a small size. It has the advantages of lightweight, convenient installation and maintenance, high sensitivity, low failure rate, earthquake resistance and impact resistance, good repeatability and long service life. It is widely used in thermal power, petroleum, chemical, water supply, power stations, boilers, light industry and other fields flammable and explosive atmospheres, explosion-proof products can be provided. Explosion-proof grade: ExiaIICT5Ga, protection grade: IP54.
Product Characteristics
(1) High work reliability and stable performance;
(2) Special integrated circuit, few peripheral devices, high reliability;
(3) High-precision sensitive elements, high measurement accuracy;
(4) Simple maintenance, small volume, light weight and easy installation and debugging;
(5) Aluminum alloy die-cast shell, three-end isolation, electrostatic spray-paint protection layer, solid and durable;
(6) (4-20) mA DC second-line signal transmission, with strong anti-interference capability and long transmission distance.
Performance Parameter(s)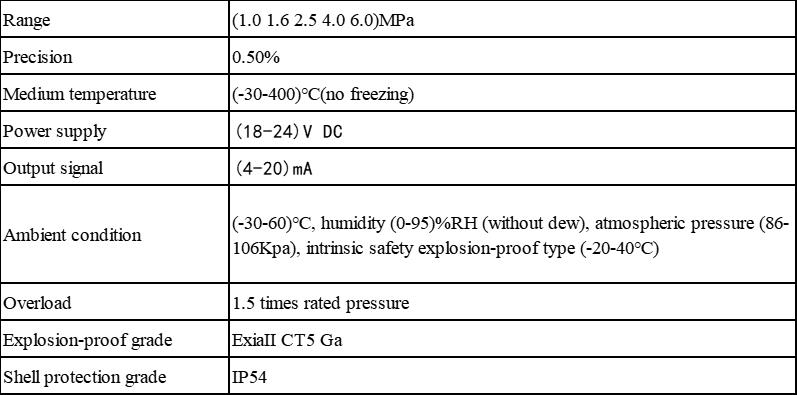 Product Type Selection