Measuring Principle
The principle of ultrasonic level meter is that the ultrasonic pulse is sent by the transducer (probe). When the surface of the tested medium is reflected back, some reflected echoes are received by the same transducer and converted into electrical signals.
Ultrasonic pulses travel at acoustic speed, and the time interval from the launch to the reception of the ultrasonic pulses is proportional to the distance from the transducer to the surface of the medium being measured. The relation between the distance value S and the sound velocity C and the transmission time T can be expressed in terms of formulas:
S=C×T/2
Since the launch of the ultrasonic pulse with a certain width, the distance of reflection wave transducer in small region and emission wave overlap, not recognized, can not measure the distance value, this area is known as the measuring blind area, relevant work frequency and size of ultrasonic liquid level meter blind.
The base level of the measurement is the lower edge of the probe.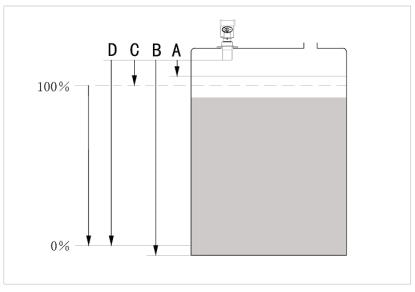 A.Blind area B.range C.Full charge D.Zero point
●Characteristic
Advanced microprocessor is adopted
Unique echo processing technology
False echo storage function
Built in temperature compensation
Small beam
Simple debugging and calibration
Instrument introduction