Overview
ABDT-YBY-118T pressure gauge integrates high sensitivity pressure, high precision signal conditioning circuit, low power battery power management, and rich LCD display interface.Naturally strong anti-interference characteristics, it is an ideal intelligent instrument for pressure collection transmission and display.Suitable for oilfield, water conservancy, metallurgy, tap water and other industries.
Main feature:
Using the latest microprocessor technology, battery-powered, ultra-low power operation, battery life of 2-5 years.

The temperature characteristics of the whole machine are very good, and the working temperature range is -30-70 degrees.

Explosion-proof design: explosion-proof aluminum shell, the circuit board system is intrinsically safe.

Protection level: ip66, fully sealed and waterproof design.

Rich LCD display interface with power prompt and dynamic percentage display.

The main screen has 5-bit real-time pressure display.

The secondary screen can display the time, date, number of data, etc.

The graphical pressure percentage is displayed with the battery level.

White backlight for easy night viewing.

A variety of pressure unit conversion, internationally accepted.

The acquisition rate is 16 seconds/time to 4 times/second, which is more suitable for application.

With data storage function, 260000 pieces of data can be recorded
The main technical parameters
Measured medium: liquid, gas

Pressure range: -0.1~100MPa Customizable

Accuracy: ≤±0.2%fs

Display mode: 5-digit lcd display

Display resolution: ±0.0001%fs

Standby current: ≤5 microamperes

Working power: 3.6v lithium battery

Shell protection: ip66

Medium temperature: -20~70°C

Working environment temperature: -20~70°C

Working environment humidity: ≤80% rh

Product weight: 800g
Shape parameter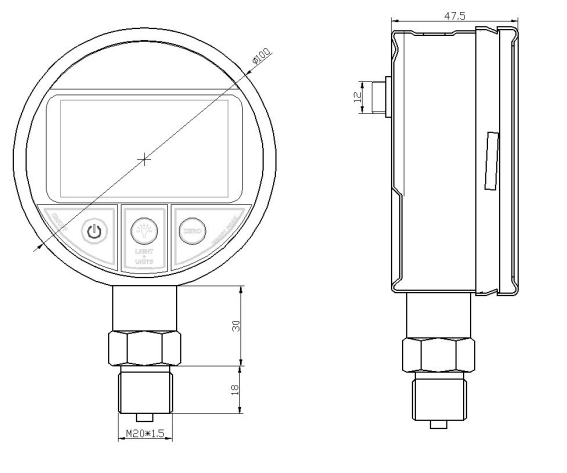 Installation Method
1. Determine the measurement range required by the process and the range of the transmitter to be installed.
5.2 The joint thread size of the process installation must be matched with the transmitter.
5.3 Install the pressure transmitter on the pipeline. Firstly, close the valve (needle valve or gate valve) on the pipeline to be installed with the pressure transmitter. Then there are 2 installation methods: (1) Screw the transmitter directly into the valve. (2) Screw the union or adapter into the upper port of the valve, and then screw the transmitter into the upper port of the union or adapter. This installation method adjusts the direction by adding a joint or adapter. .After installation, open the needle valve to confirm that there is no leakage, that is, the installation is qualified.
After Sales Service
This product is warranted for one year under the conditions that the user fully complies with the requirements of the instructions, the method of use is correct, and no one is damaged.